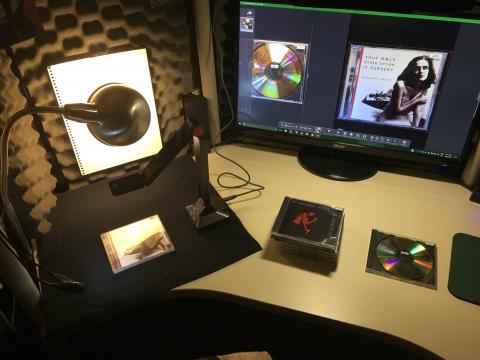 A quick peek behind the scenes!  Pictured is the imaging rig we have set up to snap cataloging images of every item in the P4 collection.  Featured is our Solo 8 document imaging camera, and associated software.  Even as we continue the detailed cataloging of every CD, tape, chapbook, and piece of ephemera in our collection (all the way down to individual poem names and other details!), we're also developing the search interface into our collection.  Every search of the P4 collection will return not only the results and a recording you can hear or see, but also an image of the physical item that was the source of that recording, and a set of additional images as well.  Do you want to look at the insert from one of your favorite CDs?  No problem!  P4 is digitizing every page of those inserts, the front and back covers, as well as an image of the CD itself!
This is a massive project, but we're well on our way to building what we believe will be the largest, best cataloged, most thoroughly described and accessible poetry recording archive in the world!  Follow us as we begin to bring this catalog on line later this year.
If you have recordings or other materials that document the history of the poetry slam movement, and would be interested in adding them to our collection so they can be preserved for posterity, contact our Collection Curator!