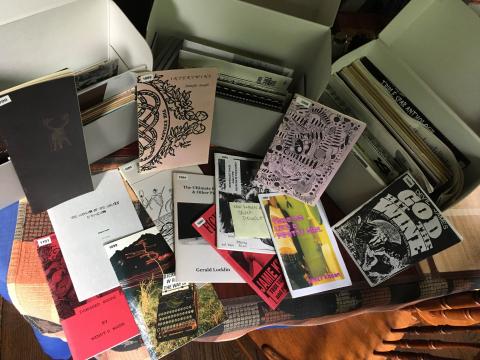 Ladies and Gentlemen, announcing the Bucky Sinister Chapbook Collection!
After seeing the great response to Cristin O'Keefe Aptowicz's chapbook donation earlier this year, Bucky Sinister reached out to us here at P4, to let us know hew had a collection of material we should take a look at.  We were immediately excited, because few people are as invested and integral to the West Coast poetry and underground literature scene as Bucky Sinister.  And we had long lamented the fact that the West Coast was woefully under-represented in the P4 Archives.
But what Bucky sent us was truly astounding!  It totaled up to 142 Chapbooks, 35 Zines, 4 Flyers, 2 CDs, and 1 Catalog!  And among those chapbooks are some of the most well known names on the California scene, as well as a ton of people whose names were new, at least to us East Coast slam afficianados.  This is truly an impressive collection and an important addition to the P4 Archive.
Watch our Facebook Page, because we will be posting images of the covers of many of these, and linking them to the poets when we can find them, over the next few months.
Read more by Bucky by visiting his author's page on Amazon.  He is the author of several acclaimed works, including the novel "Black Hole", and his poetry book "Whisky and Robots."
Thank you Bucky!  P4 appreciates your contribution so much, and we promise to protect and preserve these for poets, scholars, historians, and poetry fans, for generations to come!