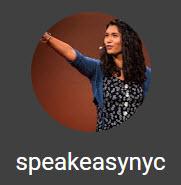 When spoken word superstar Sarah Kay was teenage poet, absorbing the poetry and cutting her teeth around the slam venues of New York City, her father, Jeff Kay, would accompany her to the shows.  But as much as Jeff loved to watch his daughter perform, he often found that his daughter's poetry moved him so much that he spent too much of each evening watching through his tears.
So in order to combat the tears, he started bringing his video camera with him to the performances.  And as he explained to me, when we chatted earlier this week, he became very adept at "crying with one eye and keeping the other on the viewfinder."
Fast forward to 2016, Sarah Kay is now a defining voice in the spoken word universe, and Jeff's videos of New York City poetry scene have become one of the most complete and astounding documentaries of any poetry scene, anywhere in the world.   
P4 is thrilled to announce our partnership with Jeff's YouTube Channel SpeakeasyNYC!  With almost 106,000 subscribers, and more than 20 million views, SpeakeasyNYC is one of the leading purveyors of spoken word video on YouTube, and in the world.  SpeakeasyNYC has posted hundreds of performance videos, including poetry by Sarah Kay, Taylor Mali, Jenann Verlee, Buddy Wakefield, Patricia Smith, Anis Mojgani, Andrea Gibson, Rudy Francisco, Cristin O'Keefe Aptowicz, and many more.
We're excited to work with Jeff, not only in support of P4's goals, but also in ensuring that all the documentary footage he's recorded over the years can be preserved and protected.  
Welcome, Jeff!!!